The recent events at Wymondham Town Football Club have seen history repeat itself. Well almost. In 1914 the Town FC was just recovering from a disastrous spell in which it had fallen into debt and temporarily folded – surprisingly for a club which since its formation in 1883 had been a leading light in local football and had won the Norfolk  Senior Cup on two occasions. In 1906 Town dropped out of the strong Norwich & District League just to play friendlies, leaving Wymondham Church Lads the only team from the town in that league. In 1909, following a 9-0 thrashing by Thetford in the 1st round of the Norfolk Junior Cup, it folded with debts of £2 (about £160 of today's money). It was not until July 1912 that Wymondham Church Lads decided to become 'Wymondham' and thus the Town Team was re-established on the King's Head Meadow. All was well again for in that last season before The First World War (1913-14) the resurrected Town FC were only beaten in the Senior Cup competition by the eventual winners & finished runners up in the Norwich & District League, which in those days included the likes of Dereham, Diss & Fakenham. Organised league football was suspended during The Great War, but after a cessation of hostilities the Town enjoyed success again and competed in the East Anglian League from 1935. After World War II Town played in the Norfolk & Suffolk League, then from 1964 in the Anglian Combination and produced many headline-making displays, not least a stirring 4-3 victory over Yarmouth in the FA Amateur Cup in 1958.
Success on the pitch never came without sound administration & financial stability. Today sponsorship, bar takings & lettings seem to be the main source of income, but years ago it was a bit different. In the 1930s and the immediate postwar period, when the crowd sometimes reached the 1000 mark, an administration fee was charged to watch the Town play on the Kings Head Meadow. A somewhat curious incident occurred in 1932 when a Customs & Excise officer turned up at a match and found that Entertainment Tax (one penny for a sixpenny (3p) ticket was not being collected. Legendary club secretary Fred Hall & gatekeeper Fred Tooke were brought before the local magistrates' court and each was fined ten shillings (50p), though their excuse was there had been a rush of boys at the gate! When the Customs Officer asked the magistrate what the alternative penalty would be for these well-known Wymondham worthies there was laughter & he replied 'Oh, seven days'. Eventually it was no longer practical to charge an entrance fee but a programme could be bought.
Sponsorship in those days was confined to advertisements in the match day programme, the lucky number of which won a free seat at the Regal Cinema. In the 1950s & 60s an active supporters' club raised funds with social events and, on receiving a cheque in 1963, Fred Hireson, the club treasurer, commented 'without a strong supporter's club it would difficult to maintain amateur Norfolk & Suffolk  League football in the town'. Almost every local figure from the sitting MP to the Earl of Kimberley were persuaded to become Vice-Presidents for a fee, while in 1968 a 200 club was set up under the chairmanship of Terry Nicholls, the then landlord of the Windmill Pub, and this yielded income for a short time.
More recently Andy Gardiner & his team have been digging the club out of a very big hole & it is hoped it will be kept afloat to enjoy many more triumphs on the King's Head Meadow. A successful football team is good for a town's profile.
Philip Yaxley
Legendary Town Clerk Tom Turner, then Football Club Chairman, accepts from Bella Parsons a gift of footballs, nets and first-aid equipment for the club in August 1961. The money had been raised by a weekly competition organized by Mrs. Parsons and Pat Elvin, who is also in the picture. From the left the others are club stalwarts Percy Norton, Fred Hall and Fred Hireson.
Watched by some players and officials, Fred Parsons (left) on behalf of Wymondham Town Football Supporters' Club presents a cheque to Fred Hireson, treasurer of the parent club.
A Town FC social in the early 1950s at the King's Head Inn.
Surrounded by players, King's Head landlord Billy Goffin hands club captain Ken Percival a drink at a social in January 1951.
With the multi-talented Town FC captain Ken Percival on the piano, players and supporters enjoy a social event in the King's Head Inn in January 1951.
Historic programmes.
The first Les King Memorial football match held in 2016.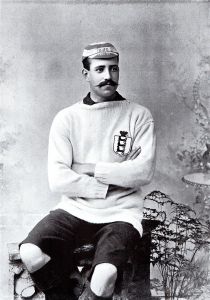 The Rev. George Barkley Raikes sporting his England jersey. He was awarded Norfolk county colours in 1892-93 whilst playing for Wymondham & played four full internationals in goal for England. He also played cricket for Oxford University, Hampshire, Norfolk & in 1912 he played in an England XI v Australia.
Factfile:
Since it's formation in 1883, the club's home ground has been the King's Head Meadow & it's colours red & black.
The club won the Norfolk Senior Cup in 1887-88 beating Thorpe 1-0 in the final & again in 1888-89 defeating Lynn Town 3-0 in the final but hasn't won the cup since.
John Eagling made his debut for Town in 1963 & made 330 appearances for the club, mainly on the right of midfield. He was captain for 10 years.
16 year old Mick Money scored over 40 goals in the 1981-82 season as Graham Morgan's team won the Anglian Combination Division One, with a record 54 out of a possible 60 points. Money went on to play for Great Yarmouth, Lowestoft, Kings Lynn & Sudbury, for whom he appeared at Wembley in the FA Vase final.
When Wymondham beat Lowestoft Railway 6-2 in the crucial final game of the 1965-66 season, so ensuring senior status, their enthusiastic captain was a young UEA scientist Ian Gibson who much later became MP for Norwich North. He played a number of games for the Town that season at left back.
Kevin & David Ready, sons of 1950s favourite Ken Ready, have also turned out for Wymondham. Former Great Yarmouth, King's Lynn & Aston Villa player Kevin also managed the Town in 2001-02.